ABOUT THE CORPS
We are an enthusiastic group of students, parents, instructors and supporters. Our group brings history alive for old York Town, and teaches music, history and leadership to our youth.
The Fifes and Drums of York Town was originally formed in 1976 by the County of York as part of the Bicentennial Celebration of the American Revolution. The Corps continues its mission to preserve and present Revolutionary War era fife and drum music to expose the public to this historically unique and important art form. Our focus remains on teaching youth with the aspiration of developing an appreciation of their history in the United States of America.
We hope that in teaching them the rudiments and drill of 18th Century Field music and then tasking them with performing for the public, we will grow confident and competent young men and women who carry on the traditions of our forefathers as well as growing into young leaders who embrace history as a means to forge our future.
As the hometown corps of the place where American independence was won, our purpose takes on special meaning.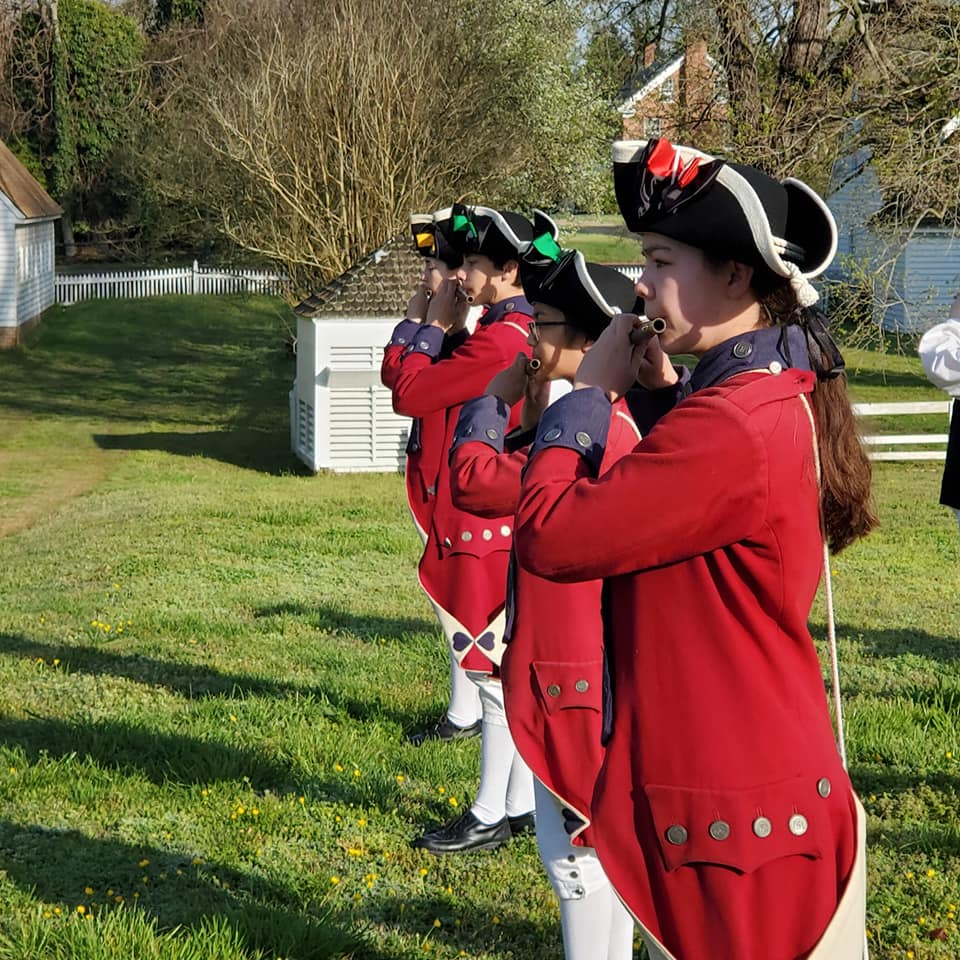 Today, The Fifes and Drums of York Town is a 501(c)3 nonprofit organization with a membership of almost 60 youngsters.
Members of the Fifes and Drums of York Town have performed at prestigious venues such as the Jefferson Memorial, the United States Capitol, Gettysburg Battefield, the Virginia Governor's Mansion, the Statue of Liberty and the Eiffel Tower.
As this year progresses we are preparing nearly 100 performances at locations across the eastern seaboard. Both Junior and Senior members can be seen and heard weekly during the Spring, Summer and Fall in historic Yorktown. See the Corps in action: Here's a recent performance at Mount Vernon.
If you are excited by our American heritage and want to pursue excellence as part of our organization, the Fifes and Drums of York Town wants to hear from you!
As a Colonial Regimental unit, the Fifes and Drums of York Town recognizes the accomplishments of its members by awarding them rank. As beginning musicians, our members will participate in a recuit class that teaches them the fundamentals of marching and playing their chosen instrument.
After these recruits have gained skill and experience, they will be promoted to the Junior Corps where they will perform as uniformed members of the Corps at parades and other events. When Junior Corps members have demonstrated sufficient expertise in both music and drill, they are promoted to the rank of Corporal and become a member of the Senior Corps, earning the privilege to wear the distinctive, regimental uniform.
Download Rank Requirements – Drummer
Download Rank Requirements – Fifer